"They Laughed When I Said I Was Starting a Carpet Cleaning Business…"
But they
stopped laughing

when I started making a six figure income.

When I told my mother I was starting a carpet cleaning company, she looked at me and said, "You sure that's what you want?" My in-laws said I should get a real job…my friends were skeptical.

I'd worked with a carpet cleaning company for a couple of months, so I had a little experience. All my research showed a cleaning business had low start up cost and good profit potential.

You May Have Faced Something Like This
I remember my wife's grandfather saying, "You went to college so you could be a carpet cleaner?" Yes, I was only months away from graduating with a degree in advertising.

I didn't pay any attention to them. Entrepreneurism had made its way into my soul. I got out my new shiny credit card and put a HUGE dent in it. An $11,200 dent to be exact. I had never purchased anything that cost that much in my life. Now I was committed. It was go time.


The Yellow Pages Money Pit
I really had little idea where to start, so I took out a small yellow pages ad hoping the calls would pour in. Now, at this time I still had two full semesters left to finish my degree. I had already read a few advertising books and taken a couple intro to advertising classes. But in reality, I only knew enough to make my bank account dangerous.
Targeted Marketing
Through learning and error, I cracked the code and created targeted advertising and built one of the most well-known companies in my city.

Now, I want to pass all I've learned on to you. You can steal all my secrets. You can take the learning curve out of the equation and start making money with your advertising tomorrow. I'll show you how. I'll even give you the actual ads I used to build my own carpet cleaning business.


Could the Internet Be Your Best Advertising?
It's possible, if you market yourself website correctly, your cleaning website can bring you tons of jobs for little money. But your website MUST be set up properly. This is all explained in my planning book. No one in the world has helped as many cleaners get ranked high in the search engines as I have.
Why am I so high on the Internet? Because it's one of the top ways more cleaning companies get their BIGGEST advertising return. When you sign up for my email newsletter below, you'll get my FREE "Google Tips Report" that tells you all about it.
Profitable Advertising The Easy Way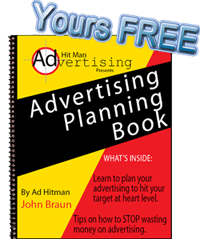 The first secret I want to pass on to you is my Advertising Planning Book I personally use to get as much as a 25 to 1 return on my advertising dollars. That means if you spend $100 on ad ad, you can get $2000 in return.

Do you want to learn how to get HUGE returns like that? Just fill out your first name and email address in the form at the upper left corner of this page or the form below to claim your copy.

Sincerely,

John Braun
The Ad Hitman

P.S. Just below, get your FREE Advertising Planning Book right now to get and you'll also be subscribed to my Hitman Advertising E-Newsletter for cleaning companies. You'll get killer Internet, newspaper, postcard, and other advertising strategies that get BIG response.

P.P.S. Plus you instantly get my brand new "Google Tips" Report for cleaning companies--$37 value, but it's yours FREE. All you have to do is fill in your first name and email address in the form below.
P.P.P.S. If you'd rather get your reports by mail, just call 888-211-7702. You'll hear a brief message and then leave your name and address.



Claim Your FREE Ad Planning Book and "Google Tips" Report By Filling in Below...
---
Please tell me as much as you can about your exact needs. I'll answer your questions as best as possible.

Email privacy. Don't worry, your email is safe. I will never give your email to anyone. You can safely opt-out any time you wish.